Happy valentine's day, lovelies! How are you spending this year's Valentine? A romantic getaway? Fancy dinner? Or simply staying in with homecooked meals? Well, I don't believe that Valentine's day should always be celebrated with special events nor should it only be celebrated with a romantic partner. If you're bored with all the Valentine's day festivities and want to have a more relaxed night, there's always a foolproof option you could do: watching romantic comedy movies! In this post, I specifically picked some of the romantic comedy movies to watch this Valentine.
When it comes to romantic comedy movies, I'm a self-proclaimed connoisseur. I've been watching this genre ever since I was a little girl (no wonder I grew up a hopeless romantic- with exceedingly unrealistic romantic expectation). It's typically easy to watch, it's refreshing, and it warms your heart. You can definitely watch it on any occasion, although what better moment to watch romantic comedy movies than Valentine's day?
Obviously, the romantic comedy movies I'm listing out here are some of my favorites. Some are the classics, some are newer. Although romantic comedy movies are arguably getting fewer nowadays, unlike in the early 2000s.
Romantic Comedy Movies To Watch This Valentine
Love Actually (2003)
When people say romantic comedy movies, my mind automatically thinks of this movie. It's THE ultimate romantic comedy movie, I'd say. It's classic, it's star-studded, and heartwarming. Granted, there are some of the scenes that seem inappropriate but it doesn't erase the fact of how cute this movie is. It follows the lives of ten characters in several seemingly disconnected stories with Christmas in the background. I always (and when I say always, I mean it) watch this movie on Christmas day. Never fails to lift up my mood. It's the kind of movie you could watch hundreds of time and never get bored of.
---
The Holiday (2006)
Another rom-com movie set (mostly) in England. It's about two polar opposite women finding love (or what's it about) when they participated in a house swap. Amanda, a hip and strong-minded trailer-maker from Los Angeles flew across the pond to live in Iris' lovely Surrey cottage during New Year's holiday to get over a nasty breakup. Iris is a mellow journalist who's been on someone's string far too long and almost end her life when her love wasn't reciprocated. It's super fun to watch also because it has the charming Jude Law and funny Jack Black as their love interests.
I love this movie because it doesn't necessarily follow the typical shallow plot of romantic comedy movies.
---
50 First Dates (2004)
The main premise of this movie is about a girl, Lucy (Drew Barrymore), who suffered a Goldfield's syndrome after a driving accident. Making her unable to create new memory and therefore wakes up every day still thinking it the day of her accident. She met Henry (Adam Sandler) one day and immediately hit it off. Although obviously, she cannot remember him the next day. But Henry never gives up. It's super romantic, the way Adam Sandler's character tries to make Lucy falls in love with him, every single day. Who doesn't want that?
---
My Best Friend's Wedding (1997)
This is one of the romantic comedy movies where you're not sure whether you can root for the leading lady (Julia Roberts) to get the man she wants. As the man (Dermot Mulroney), who happens to be her best friend for years is set to mary a sweet woman of his dream (Cameron Diaz). It's not traditionally romantic but it has enough giggle-worthy moment to keep you occupied.
---
The Proposal (2009)
When Margaret Tate (Sandra Bullock), a fearsome and successful editor at a large publishing company faced the risk of deportation, she turned to her unappreciated assistant (Ryan Reynolds) to pretend to be her fiance. Things started to shift when she followed him to Alaska and meet his family.
Granted it has quite a cheesy premise. But it doesn't mean that it's a terrible movie. In fact, the sufficient amount of comedic and romantic scenes makes it so refreshing to watch. Plus, it's nice to see that the leading lady is depicted as having a strong personality and career-oriented for a change.
---
Leap Year (2010)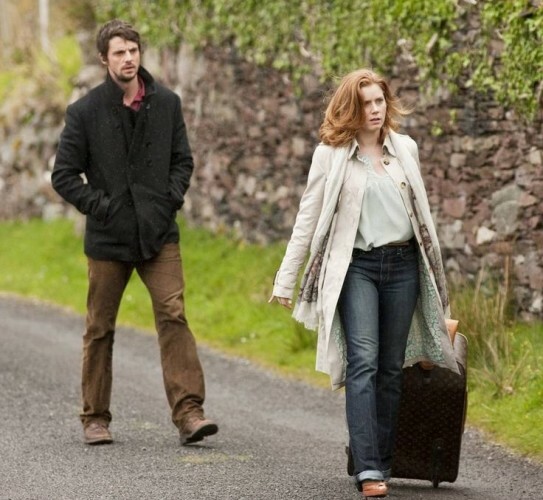 Another movie set in UK land. Yes, I'm a sucker for it as you have seen (there's more ;)). This movie is quite unique because again it has a strong-willed leading lady (Amy Adams) who wants to take the matter into her own hand when her long-term boyfriend (Adam Scott) takes too long to propose. She took advantages of an Irish tradition whereby the women are allowed (hm??) to propose to their boyfriend on February 29, marking the leap year. So when her boyfriend is on a business trip to Dublin (what a coincidence! 😉 she chase him to propose on said day. Unfortunately, the universe wasn't in her favor. She got stranded on the southern part of Ireland and had to resort to the help of an annoying (but handsome and charming!) innkeeper slash bartender (Matthew Goode) to take her to Dublin.
Again, of course, the premise could seem quite cheesy. But the cute and romantic journey, as well as the building chemistry between the two main characters are hard to ignore. So lovely <3
---
Love, Simon (2018)
Simon Spiers (Nick Robinson) is an ordinary teenager with ordinary teenage life. What his loving family and friends don't know is that he keep a huge secret about his sexuality. One day he came across someone from the internet who is also gay and also goes to the same high school as Simon, he calls himself Blue. They began corresponding secretly, trading stories, likes, and dislike. Needless to say, they hit it off and Simon developed a crush on Blue and started looking for him in real life. The turmoil starts when one of his not-so-good friends, find out and use it to take advantage of Simon.
It's so refreshing that romcoms are beginning to represent the LGBTQ community. Moreover with such a heartwarming story like this. Love, Simon is not just about romance but also put a lot of emphasize on friendship and family. A definite feel-good movie.
---
Me Before You (2016)
Adapted from a novel with the same title, this rom-com again is set in the UK's land. The story begins when Will Traynor (Sam Claflin) a handsome and energetic rich man got into an accident that paralyzes his entire body. His parents then hire a companion to cheer him up, Louisa Clark (Emilia Clarke) a former waitress with bubbly and chatty personality. Burdened with his condition, Will become irritable and very hard to be around with. Lou, being motivated by her family financial struggle at first, keep trying to cheer him up until he began to soften up.
If you are looking for a tear-jerker romcom, this movie is my definite answer. It's beautifully heartbreaking. No matter how many times I watch it I always turned into a ball of tears.
---
To All The Boys I've Loved Before (2018)
The most talked movie of 2018, starring the heartthrob Noah Centineo and lovely Lana Condor. This movie revolves around Lara-Jean's (Lana Condor) habit to pour out her feelings toward her crush(es) to a letter. She never sends those letter but somehow, someday it got out. The recipients include, Josh (Israel Broussard), her sister's ex-boyfriend and her best friend and Peter Kavinsky, a crush from childhood who currently dating Lana's best friend-turned-enemy, Gen. To distract Josh from the letter and making Gen jealous, LJ and Peter got involved on a contract to pretend to be couple. As a wallflower, fake-dating Peter turned LJ's world around. As the story progress, the relationship started to get less and less fake.
What I really love about this movie is, unlike a lot of rom-com movies, the two main character actually have deep and meaningful conversations and really connects with each other. It's so not your typical teenage love story. Plus, Peter Kavinsky is really cute and flirty it's hard not to fall in love with him!
---
The Princess Switch (2018)
One of the newer released movies on the list, The Princess Switch was actually set as one of Netflix's Christmas movies. One week before Christmas, a duchess who is set to marry a prince decided to switch place with a baker from the states who bore a striking resemblance with her. It was supposed to be a two days thing but in the process, they began to fall in love with each other's man.
It has a super unrealistic and cheesy premise and I really didn't expect to like it at all. But how I was wrong! Fictional kingdom? Checked! Charming Prince? Checked! Ripped best friend? Checked! Christmas vibe? Double checked!! It's exponentially better than The Christmas Prince (it's not hard to, though). If we look past the unrealistic plot, it's actually a really good romcom. Funny, cute, and so heartwarming.
---
I could go on and fill this list with entire romcom movies I love. But to keep this list short and sweet let me just end this here for now.
Now, what are you waiting for? Grab your comfiest PJ's and your favorite popcorn and stream those romantic comedy movies to warm your heart this Valentine!
Are any of them your favorite? Or do you have another favorite? Please let me know! I'm dying to watch more romcom!
Happy valentine's day!!
xx